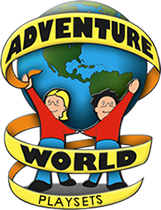 Let the

Adventures Begin!
Gym sets offer your children an outdoor adventure in your own backyard! Hours spent in the fresh air and sunshine invigorates the imagination and allows creativity to flow. Gym sets offer unique combinations of towers, swings, and slides as well as other accessories to stimulate hours of play.
How big should our gym set be?
Of course your child is going to want the biggest gym set imaginable! But we'll help you determine what size your backyard, and wallet, can accommodate. The firest steps include determining where you will place the gym set and taking measurements. Don't forget to include a buffer zone around the area – there should be a six-foot perimeter around the gym set to prevent your children from swinging, jumping or falling into something dangerous. Then we'll help you plan from there!
Adventure World Playsets
Blockco is an authorized Adventure World Playsets dealer. These gym sets are guaranteed to give adults peace of mind knowing that they are constructed with safety features and with the highest quality materials. They are built to last and designed with fun in mind. With options to grow as your child grows, it is the only gym set you will ever have to buy!
Playset Features
Adventure World Playsets specialize in building dream gym sets for your children. Take a look at the features that make this gym sets the best choice for your family.
Can be customized into hundreds of combinations, making each one unique and tailor-made for your family.

Only available through dealers who are well-versed in playset configuration, assembly, pricing and support.

Manufactured from recycled plastics that are environmentally friendly and maintenance free.

Choose from over 20 standard vinyl playsets or create your own for custom adventures!
Accessories
We offer many accessories to enhance your children's adventures. Put a smile on their faces by adding an accessory or two!
Plastic Sliding Boards

Chutes

Ladders

Turbo Slides

Towers

Tire Swings

Rock Walls

Monkey Bars

Colored Rubber Mulch

Mats

Curbing